DTVS Batteries
DARWEN-LANCASHIRE-UK
Established 1988

Batteries for Camcorders, Chargers, Canon, Ferguson, Hitachi, JVC, Leica,
Minolta, Nikon, Panasonic, Philips, Sanyo, Samsung, Sharp, Sony, and all other brands. Editors
and Processors, Stockest of Hahnel, Energizer and Uniross batteries and chargers. Extra batteries
for your digital package.

DTVS (DUXBURYS TV SERVICES) was established in 1988 committed to the repairs of TV and VCR and including sales of these items and a few special services along the way. Later came the camcorder era and I at DTVS became a specialist of the supply of camcorder power batteries and belts.

Today I can supply batteries and packs to power many Digital Cameras and Camcorders. For the real serious videographer I have a small range of Video Analogue and Digital Editing Equipment. Also a large range of Video , Camera and Cinema leads available.

Unfortunately due to retirement all items are now on a first come first serve basis while stocks last. Buy now many items at cost prices with terrific savings so hurry.

Feel free to e-mail me with full details such as model, voltage, etc. and do search this site well so not to miss a bargain.


Darwen Jubilee Tower
---
Camlink MX800 Kit Audio Mixer include microphone, copyright free
music tape, leads, instructions, plus FREE VHS C or 8mm cleaning kit
(state which)
All this for only £9.99 inc carriage save over £10.00
---
Mad Offers, Tel 01254 705287 now!
For Panasonic type CGR-V620 normally £49.99 offer £9.99 order code OP620
For Canon type BP941 normally £62.99 offer £15.99 order code OC941


This Months offers hurry!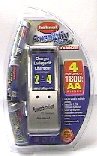 Hahnel TC Power Stations with 4x AA batteries only £10.99
A must have for the Digital Camera user.
Worldwide Digital Camera power supply only £9.99 save over £10.00


Just need to find a camcorder battery quickly select a battery click here.
If you like the site and think it can be useful to others please link me.

Your ever so kind click here Tell a friend and recommend this site .
[ New Products ] [ Tips ] [ Camlink Products ]
[ Battery Info ] [[ Editors ] [ FREE adds]
Contact: Mr G Duxbury, 4 Dean Street, Darwen, Lancashire, BB3 1HH
RE-CHARGE IT, RE-CYCLE IT AND STAY GREEN

Visitor